Late Breaking Posters Abstract Submission: March 26th, 2017
Early Bird Deadline for the Conference: April 21, 2017
Regular Registration Deadline for the Conference: May 26, 2017
Final Registration Rates are effective: May 27, 2017
Pre-Conference Workshops: June 20th, 2017
General Membership Meeting: June 21st, 2017
ICAMPAM Conference: June 21st-23rd, 2017
Our keynote speakers include:
Heiner Boeing
Berlin, Germany
"7-day accelerometry in the German Health Study (National Cohort)"
Heiner Boeing received his PhD in Nutritional Sciences at the University of Gießen in 1985, based on work he conducted at the German Cancer Research Center (DKFZ), Heidelberg. Shortly after the completion of the PHD work, he joined the School of Public Health at UCLA for a training in Epidemiology, supported by a grant from the German Government. With a MSPH degree, he returned to the DKFZ as post doc. In this period, he was also member of the initial EPIC group formed at IARC. After habilitation at the University of Heidelberg, he moved to the German Institute of Human Nutrition Potsdam Rehbrücke , located in previous East-Germany. There, he established the EPIC-Potsdam-Study, a prospective cohort with more than 27000 participants. He is heading the Department of Epidemiology at the Institute and is also appointed as Adjunct Professor at the University of Potsdam. Further, he the PI of the NAKO-Health Study for Berlin South-Brandenburg, a further large scale cohort study. Currently, he is President of the Federation of European Nutrition Societies. His research interest is focused on the role of foods for disease prevention and food-based dietary guidelines and the interactions of lifestyle factors such as diet, physical activity, and anthropometry in relation to metabolite status and markers of nutritional, cardiovascular and metabolic disorders.
Bjorn Eskofier
Friedrich-Alexander University Erlangen-Nürnberg, Germany
"Smart Shoes Reach the Clinic: Wearable sensor-based instrumented gait analysis for movement disorders"
Bjoern M. Eskofier is German Research Foundation (DFG) funded Heisenberg-Professor for "Digital Support Systems in Sports and Medical Engineering" and endowed professor of the Adidas AG. He heads the Digital Sports and Health Lab and the Central Institute for Medical Engineering at the Friedrich-Alexander-University Erlangen-Nuernberg (FAU). Currently, his lab has 20 co-workers, who research in the fields of machine learning and signal analysis for wearable computing systems in sports and health care.
Dr. Eskofier studied Electrical Engineering at the FAU and graduated in 2006, and studied under the supervision of Prof. Dr. Benno Nigg at the University of Calgary (Canada). There, he received his PhD degree in Biomechanics in 2010 for his research on "Application of Pattern Recognition Methods in Biomechanics". He authored more than 130 peer reviewed articles, submitted 5 patent applications, and started two spinoff startup companies. He won several medical-technical research awards. Recently, he was a visiting professor in Dr. Paolo Bonato's Motion Analysis Lab at Harvard Medical School. He is also the delegate of the FAU to the Medical Valley (80 Mio Euro German Ministry of Education funded cluster) and to the European Institute of Innovation & Technology for Health (EIT Health, 2 Bio Euro EU Horizon 2020 funded project, 2014-2020).
Karl E. Friedl
University of California, San Francisco, USA
"Monitoring of sleep and other neurophysiological parameters outside of the laboratory setting"
Karl has conducted, directed, and funded military physiology research for over thirty years. Before entering the Army, Karl received his Ph.D. through the Institute of Environmental Stress in the University of California, Santa Barbara. His interest in the physiological limits of performance has spanned a broad range of military problems. Current activities center on physiological monitoring strategies that permit studies outside of the laboratory, supporting current Army research efforts in this area at the U.S. Army Research Institute of Environmental Medicine. He has published over 100 peer reviewed articles, 35 chapters, and numerous technical reports. He is a Professor (adjunct), Department of Neurology, University of California, San Francisco. He is also an associate editor of IEEE Journal of Biomedical and Health Informatics, a Fellow of the American Institute for Medical and Biological Engineering (AIMBE), and served as co-chair of the Body Sensor Networks 2016 symposium.
Jennifer Hicks
Stanford University, USA
"Planetary Scale Smartphone Data Reveal Relationships Between Physical Activity, Environment, & Health"
Jennifer Hicks received her Ph.D. in Mechanical Engineering from Stanford University in 2010. Her work, applying computer modeling and statistical learning to understand human movement disorders, was supported by fellowships from the National Science Foundation and the Stanford Bio-X Program. Dr. Hicks is the Director of Data Science for the Mobilize Center, a Big Data to Knowledge (BD2K) Center of Excellence at Stanford University.  Dr. Hicks also serves as the Associate Director of the National Center for Simulation in Rehabilitation Research, (NCSRR), an NIH-funded center that brings state-of-the-art engineering tools to rehabilitation scientists. Her research is focused on interfacing biomechanical modeling with statistical and machine learning methods to predict the effects of surgery and other interventions on human movement. She is also using data from mobile phones and other novel sources to understand how to motivate physical activity. Dr. Hicks helps run the multi-faceted training and outreach programs at the Mobilize Center and NCSRR. In addition, as the Research and Development Manager for the OpenSim software project, she guides the project's development team and serves as the voice of the software user/researcher.
James McClain
NIH, USA
"Participant Technology and Assessment in the All of Us Research Program: Current Status and Future Innovations"
James McClain, PhD, MPH, is a Program Director and acting Chief Technology Officer for the All of Us Research Program. As part of the federal Precision Medicine Initiative, the NIH All of Us Research Program is leading the effort to build a national, large-scale research enterprise with one million or more volunteers to extend precision medicine to all diseases. Precision medicine is an emerging approach for disease treatment and prevention that takes into account individual variability in environment, lifestyle and genes for each person. Dr. McClain serves as project officer for the award teams charged with development of all participant facing software resources for data collection and user engagement for the All of Us Research Program.
Prior to joining the Program, Dr. McClain supported a U.S. National Cancer Institute portfolio focused on developing software tools to collect, integrate and analyze diverse sensor and self-report measures for monitoring health behaviors and patient reported outcomes in clinical and research applications. A specific focus of this portfolio was development of modular, scalable and reusable infrastructure to accelerate development, testing, and dissemination of evidence based interventions.
Dr. McClain earned a BS and MS in Exercise Physiology from Iowa State University; a PhD in Physical Activity, Nutrition, and Wellness from Arizona State University; and an MPH from Johns Hopkins Bloomberg School of Public Health.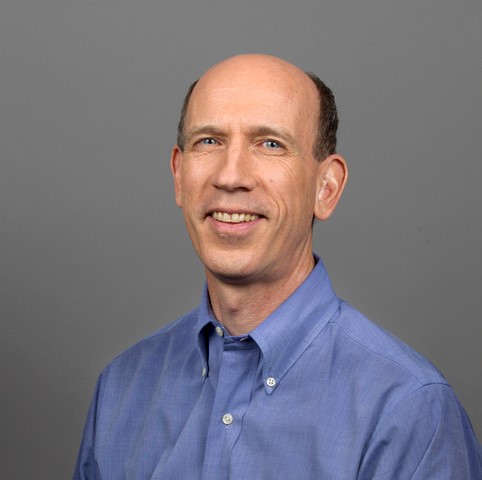 Mike McConnell
Verily Life Sciences, USA
"Use of mobile/wearable devices for research and clinical care"
Michael V. McConnell, MD, MSEE is Head of Cardiovascular Health Innovations at Verily Life Sciences and Professor of Cardiovascular Medicine at Stanford School of Medicine, where he continues to see patients and teach in the Stanford Biodesign program. Dr. McConnell has clinical and research expertise in cardiovascular imaging, prevention, and mobile health. While at Stanford, he led the Cardiovascular MRI program, the Preventive Cardiology Clinic, and the MyHeart Counts cardiovascular mHealth ResearchKit study.
Dr. McConnell completed his BS and MS in EE/BioE at MIT, his MD at Stanford, and his Cardiovascular Medicine and Imaging Fellowships at Brigham and Women's Hospital/Harvard Medical School. He has been the PI of multiple grants from the NIH and AHA, and is a Fellow of the AHA and ACC. He serves on the AHA's Health Tech Advisory Board since its founding and is currently co-chair of AHA's 2030 Goals Task Force. He also serves on the Physical Activity Standards working group for the Consumer Technology Association.
Nick Wareham
Cambridge, UK
"Measuring physical activity objectively in the UK Biobank study"
Professor Nick Wareham is the Director of the MRC Epidemiology Unit, Co-Director of the Institute of Metabolic Science, Honorary Consultant at Addenbrooke's Hospital and Professor of Epidemiology at the University of Cambridge, England. He studied Medicine at St Thomas' Hospital Medical School and Epidemiology at both the London School of Hygiene and Tropical Medicine and Cambridge University, England. His principal research interests are in understanding the aetiology of type 2 diabetes and in developing strategies for prevention and early detection. These preventive approaches include individual and societal level interventions and he is the Director of the UKCRC Centre for Diet and Activity Research (CEDAR). He has a specific interest in the development and application of novel methods for measuring physical activity in population studies and has chaired the UK Biobank accelerometry working group.
Our invited speakers include:
Diane Cook
Washington State University, USA
"Activity-Aware Smart Homes for Health Assessment and Intervention"
Dr. Diane Cook is a Huie-Rogers Chair Professor in the School of Electrical Engineering and Computer Science at Washington State University. She received her B.S. from Wheaton Collegeand her Ph.D. from the University of Illinois. Her areas of research interest are machine learning and smart environments and she serves as the head of the CASAS Smart Home project at WSU. Her research has been supported by the National Science Foundation, the National Institutes of Health, DARPA, the Department of Homeland Security, NASA, the Air Force, Naval Research lab, and numerous industrial partners. Dr. Cook has written four books and serves on the editorial boards for eight international journals. She is a Fellow of IEEE, a Fellow of FTRA, and a member of the National Academy of Inventors.
Deborah Estrin
Cornell University, USA
"Using small data to personalize, sustain and study health behavior"
Deborah Estrin is a Professor of Computer Science at Cornell Tech in New York City. She is founder of theHealth Tech Hub in the Jacobs Institute and directs the Small Data Lab at Cornell Tech. She holds The Robert V. Tishman Founder's Chair and has recently taken on a leadership role as Associate Dean. Her current research focus is on mobile health and small data, leveraging the pervasiveness of mobile devices and digital interactions for health and life management (TEDMED). Estrin co-founded the non-profit startup,Open mHealth and sits on several scientific advisory boards for early stage mobile health startups.
Previously, Estrin was on the UCLA faculty where she was the Founding Director of the NSF Center for Embedded Networked Sensing (CENS), pioneering the development of mobile and wireless systems to collect and analyze real time data about the physical world. Her honors include: ACM Athena Lecture (2006), Anita Borg Institute's Women of Vision Award for Innovation (2007), The American Academy of Arts and Sciences (2007), The National Academy of Engineering (2009), The IEEE Internet Award (2017).
Kate Lyden
KAL Research & Consulting | University of Massachusetts, USA
"Measuring Physical Behavior: Insights from Device Manufacturers and Academic Research Laboratories"
Kate Lyden, Ph.D., is a research scientist with an expertise in measuring physical behavior with wearable sensors. Kate is currently working as an independent consultant with numerous device manufacturers and academic researchers. In this role she develops novel techniques to improve the measurement of all active, sedentary and sleep behaviors. She works in close collaboration with clinical and academic partners to design, implement and support research studies that use wearable sensors to measure behavior. Previously, Kate was a postdoctoral fellow at the University of Colorado, Anschutz Medical Campus. Her research examined the effects of interrupting sedentary time with short and continuous bouts of moderate intensity walking on metabolic outcomes in overweight adults. She developed methodologies to quantify small changes in behavior from wearable sensors and used these techniques to understand the dose-response relationship between physical activity and sedentary behavior and chronic disease.
John Reilly
University of Strathclyde, UK
"When does it all go wrong ?: changes in physical activity and sedentary behaviour across childhood and adolescence"
John Reilly is Professor of Physical Activity and Public Health at the University of Strathclyde, Scotland. His research on children and adolescents focuses on: the health impact of physical activity and sedentary behaviour; longitudinal studies of physical activity; physical activity and obesity; physical activity in low-middle income countries. He has published over 260 papers and had an h index of 43 in 2010. His other contributions include: work on various WHO committees and initiatives; leadership of national and international Active Healthy Kids Report Cards; contribution to evidence-based guidelines on physical activity, sedentary behaviour, and obesity; leadership of the new MSc in Physical Activity and NCD Prevention and Control at Strathclyde.
Matthew Smuck
Stanford University, USA
"Physical Performance Monitoring and Clinical Applications in Orthopedics"
Dr. Matthew Smuck is the Chief of PM&R and Associate Professor of Orthopaedic Surgery at Stanford University where his clinical focus is on the comprehensive conservative management of spine disorders. With motivation from this clinical work Dr. Smuck pioneered the field of physical performance monitoring. He founded and directs the Wearable Health Lab at Stanford, investigating medical applications of mobile technology to improve musculoskeletal and neurologic disease detection, treatment and prevention. His work has received numerous research society awards and publication awards, including The Spine Journal's 2013 and 2016 Outstanding Paper Award, the American Academy of PM&R's 2014 President's Citation Award, the PM&R Journal and Foundation for PM&R's 2015 Best Original Research Award, and the 2016 ISSLS Prize.
Tommi Vasankari
UKK-instituutti, Finland
"Use of mean amplitude deviation as an approach to acceleration data processing – experiences from Finnish population based studies"
Professor Vasankari is a director of the UKK Institute for Health Promotion Research, which is a leading institute in Finland in the field of health and physical activity. He served earlier as a professor of health and physical activity at Turku University Medical School. Professor Vasankari is currently the chairman of the Steering Committee at WHO HEPA Europe Network and the President of the Finnish Diabetes Association. Professor Vasankari has published more than 130 peer-review research articles and his main research interest has been the effect of physical activity interventions on health outcomes, and epidemiology of physical activity, sedentary behavior and physical fitness.
Our symposia speakers include:
Amy Lu (Northeastern University, USA), "Technology Assisted Physical Activity Measurement Amoung Children: Attractions and pitfalls"
Joanne McVeigh (Curtin University, Australia), "The Clinical Utility of Accelerometers in Clinical Populations"
Genevieve Healy (University of Queensland, Australia), "Using Activity Monitors to Develop, Evaluate and Refine Whole-Day Interventions"
Tamara Harris (National Institute of Aging, USA), "Application of Accelerometry to Identify Clinical Trajectories"

Jacek Urbanek (Johns Hopkins Bloomberg School of Public Health, USA), "Statistical Modelling of Circadian Rhythms of Physical Activity"